TCAMP podium partners; Cannondale, Liv, SRAM, Trek, and Specialized will facilate the workshops as well as a special panel discussion hosted by Rebecca Charlton
To culminate the success of its inaugural year, the TCA's relaunched Mentorship Program (TCAMP) is excited to announce it's first multi-brand workshop series; a three day collection of workshops led by experts in the cycling industry from the 18-20th October 2021.
This will punctuate the end of the season, with riders having an opportunity to gain insights and practical skills for use in their cycling career and beyond. The event will build on participants' experiences from throughout the year whilst also giving brands the chance to share their values and experiences with TCA members. The aim of TCAMP is to up-skill and equip participants with skills needed to help them better harness their economic potential, during racing and when going on to become industry decision makers of the future.
The event will kick off with presentations to all TCA members from the Podium Partners; Trek, Specialized, SRAM, Liv and Cannondale, providing detailed insights into the cycling industry and allowing athletes to connect to brand leaders. During this session, experts will speak about their support of women's cycling, brand values and also share valuable tips for working in the cycling industry. This will be followed by a panel discussion hosted by cycling journalist and host of The Bunnyhop, Rebecca Charlton with all brand representatives, finishing with an open Q&A.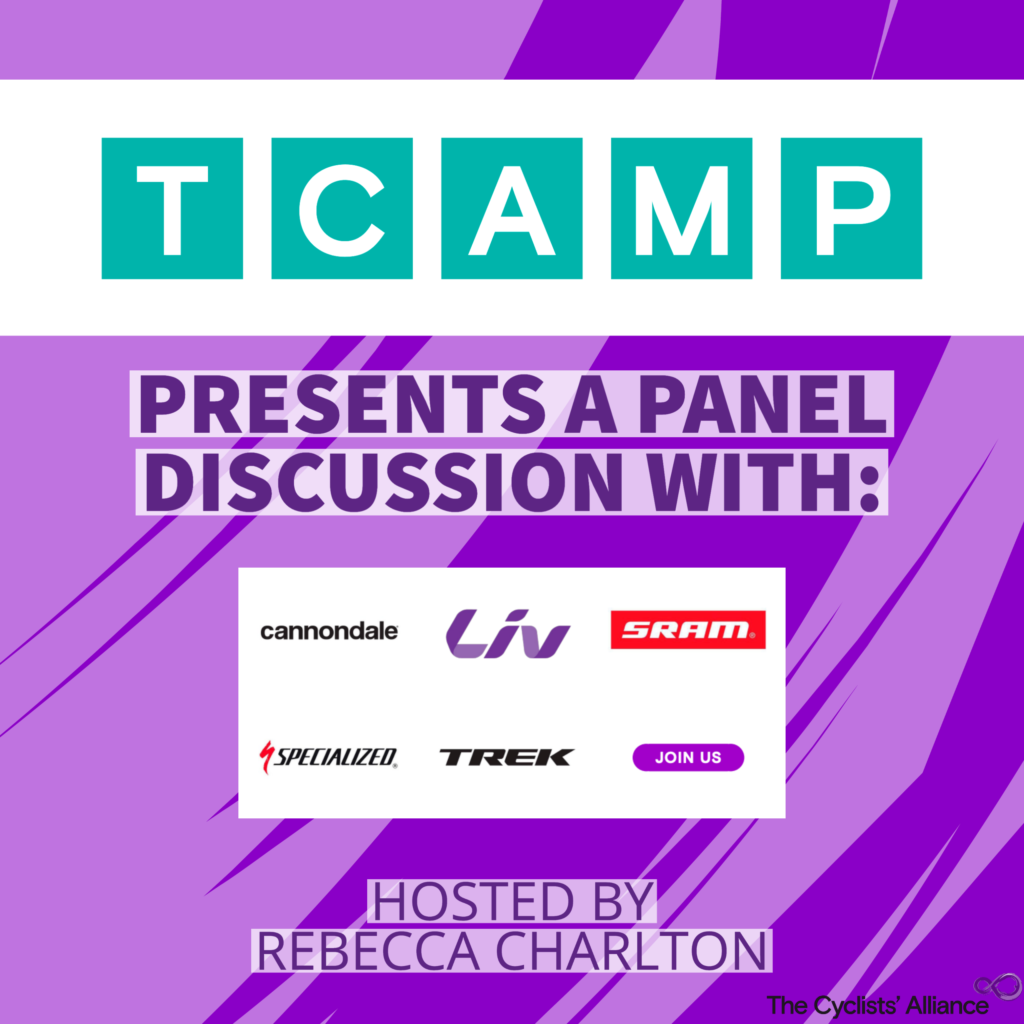 The panel discussion is free to join for all TCA members giving individuals the opportunity to understand more about some of cycling's biggest brands and the potential career pathways that are on offer within the industry.
Following the panel there will be two days of workshops for this year's TCAMP participants. These workshops will include self advocacy, PR/media training alongside networking and CV building sessions ensuring riders build transferable skills. Additionally, through these workshops Podium Partners will also have the opportunity to speak to a wide range of riders from multiple teams giving greater exposure to both cycling brands and riders. 
"The Cyclists' Alliance has always had big ambitions, and our Mentorship Program was no exception. From the beginning we believed that finding long term solutions for the sport was just as important as providing support to each individual. Our Podium Partners believe this as well, and we are thrilled to have Cannondale, Liv, SRAM, Trek, and Specialized share our vision of creating a stronger and more sustainable environment for women's cycling across all levels. We are excited to announce our first ever multi-brand workshop series aimed at providing our members insights and skills to use in their cycling careers and beyond. The first session will also be open to any TCA member who is interested to know more about how these brands work, why they care about women's cycling, and what some of the benefits are of being part of our Mentorship Program."

Gracie Elvin [TCA Co-founder and Co-Manager of TCAMP]