What is it ?
The Cyclists' Alliance have partnered with Strava to create a unique funding stream The TCAMP Pre-Career x Strava Grant. This grant aim to provide financial support to promising female cyclists who are at the beginning of their cycling career and who are prevented from maximising their potential due to financial barriers.
Strava is providing $100,000 to finance two annual grant programmes, offering up to $50,000 in 2024 and in 2025. The scheme will provide individual grants of up to €10,000 to successful applicants for one calendar year. The TCA has the responsability to administrate the money.
Why is TCA and Strava offering this grant?
Making it to the professional level is not only about potential to perform; it also requires financial means for necessary costs, such as equipment, race entries, and professional support.
TCA's mission is to increase fairness, which includes reducing the likelihood that athletes with potential are prevented from pursuing a professional career due to financial barriers. The ultimate goal of The Cyclists' Alliance and Strava is to get more female cyclists to the start line of professional cycling.
Important Information and Eligibility Criteria
What can the grant be used for?
The grant can be used to cover specific and necessary costs incurred in the progression of an elite cycling career, including but not limited to:
Travel costs
Equipment costs
Race entries/costs
Training costs (such as coaching)
Who is eligible to apply?

Applicants must fulfill all of the following criteria:
Be a current TCA member.
Demonstrate a visible and evident financial need.
Currently receive an income of less than 12,000 euros/dollars per year from cycling and personal sponsors.
Be aged between 18 and 22 years old on 1 January 2024, or have been competing in any cycling discipline for less than 3 years.
Be actively competing in a recognised UCI cycling discipline with the realistic aim of reaching international level in the next 2 years.
Demonstrate a successful competitive record within their discipline and/or age group.
Be willing and able to commit to give back to your community
How do I find out more?
Register for our next free information webinar with TCA on 4 October 20:00 CEST:
https://us02web.zoom.us/meeting/register/tZUsce6tqzIoGN1BNH27APmtHOKwfFzoXMqc

Where do I find the application form?
Click on the picture below to download the form.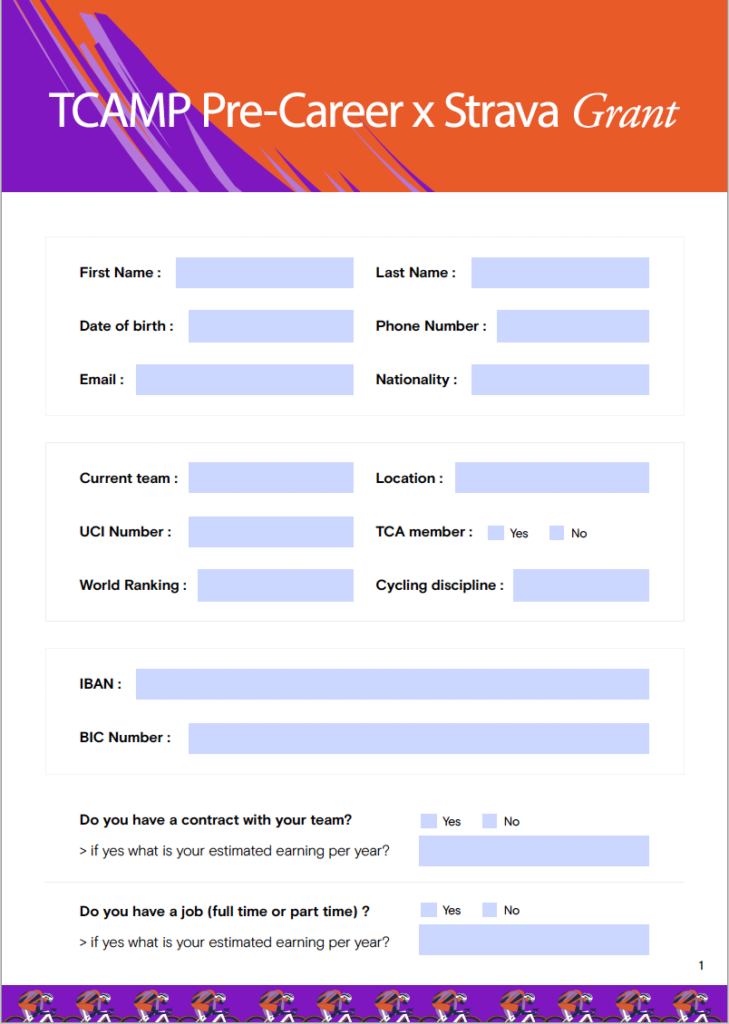 If you want to join but cannot make it, please get in touch with us directly via email to let us know info@cyclistsalliance.org

How do I apply?
Carefully review the above criteria to ensure that you can meet all requirements.
Applicants are strongly encouraged to register and attend the information webinar on Wednesday 4 October at 20:00 CEST (see above for details). 
Download a copy of the PDF application form here.
Write a covering letter (1 page only) which includes the following

How the grant will make a difference to your cycling career
Your plans for 2024, including how you would give back to the community
Contact details of two supporting references from within cycling or your national sports organisations (e.g coaches, team manager)

Submit your application to info@cyclistsalliance.org between the following dates:

Opens on Wednesday 20 September at 09:00 CEST
Closes on Tuesday 31 October 2023 at 17:00 CET
Applications submitted before or after the submission window will not be evaluated.
For all other queries, please email info@cyclistsalliance.org