On the eve of the second Tour de France Femmes Avec Zwift, TCA reveals that the key issues for the women's professional peloton are salaries, safety and live coverage.
The Cyclists' Alliance (TCA) today reveals the key findings from the women's professional peloton via its unique annual rider survey.
The 6th edition of the survey, conducted in June 2023, received 140 unique athlete responses. The survey asked 40 questions to female professional and elite cyclists which addressed several key topics, including, employment and income, education, team environments and professional support.
The results of the survey represent riders from thirty-one countries who compete in six disciplines. In aggregate, the responses to the survey represent at least four hundred and twenty seasons of racing experience.
Top Three Issues
In response to the annual question, 'What are the top three issues that TCA should advocate for on your behalf?', riders placed most importance on:
1. All riders to earn a minimum salary
2. Better race safety protocols
3. Increasing live TV coverage of races
Salaries, Finances and Resources
For respondents who are not in a UCI Women World Tour teams (where a minimum wage has been mandated since 2020), the majority struggle to make ends meet:
Two in five riders do not get paid by their team at all.
One in five riders get paid less than €5,000 gross per year.
One in five riders (gets paid between €10,000 and 20,000.
Only around 15 % of respondents receive a salary which meets or exceeds the mandated minimum salary for an employed person of €32,102.
Disparities in income and the difficulties faced by female cyclists to make a living in cycling are revealed in other aspects of the survey:
'Financial reasons' continues to be the number one reason why most female cyclists consider leaving the sport earlier than planned.
Less than half or respondents can rely on cycling as their only paid work.  
Nearly one third of survey respondents work a job while performing their job as a cyclist.
More than one third of survey respondents are currently studying while performing their job as a cyclist.
More than a quarter of respondents had to repay their team for expenses including obligatory UCI medical screening tests, flights and accommodation for racing, and bicycle repair and maintenance.
For those riders in teams which are affiliated to men's teams, only 36 per cent have access to the same resources. 21 per cent have no access at all.
Tour De France Femmes
On the eve of the Tour de France Femmes avec Zwift, the most prestigious race on the calendar, TCA highlights that seven out of the twenty two competing teams are not world tour teams, which means those riders do not have a guaranteed minimum salary. The Tour de France Femmes avec Zwift therefore includes many riders (around 20 % of the peloton) who are not earning a liveable salary and may be working another job and studying at the same time.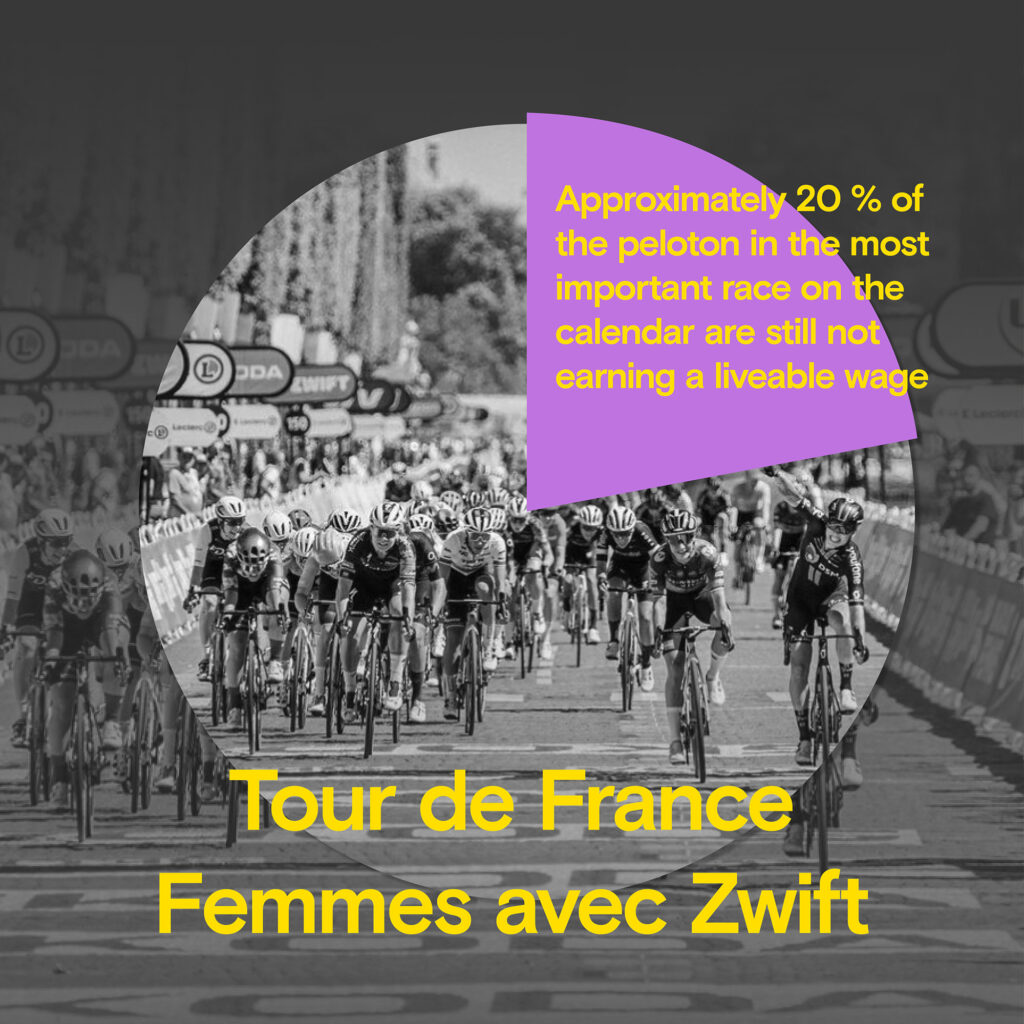 Next Steps
TCA encourages stakeholders in TDFF to share and support these key findings, and commit to improving conditions for riders across women's professional cycling, and ultimately progress the sport forwards. TCA believes the only way to change women's cycling for the better is to work together as a unified body of athletes to identify issues. By tackling these together, we can create lasting positive change.
Further Information
This is the only survey that is carried out annually for international professional women's cycling, gathering direct quantitative and qualitative feedback from
professional riders on the 'status quo' for riders across the globe.
The full report on the 2023 annual survey will be released in September 2023.
Please contact info@cyclistsalliance.org for more information.