By Lucy Cara
We are living through one of the most difficult times the world has ever endured. No one is immune to the effects of this devastating pandemic and COVID-19 has caused a seismic shift in how we live our lives.
All sports have been severely impacted, with cycling particularly exposed due to the nature of its sponsorship based operating model. To save the sport it is vital racing returns as soon as possible. However, this presents complex challenges for riders and organisers alike.
There have been mixed reactions to the UCI's new race schedule. In this article we explore this further, focusing on the revised MTB calendar. We speak to Candice Lill, Jolanda Neff, Maja Wloszczowska and Raiza Goulão, examining the impact the adjustments will have on riders.
New venues and modifications to prize money
There have been five main changes to the MTB calendar, at the time of publishing:
World Cups for various MTB disciplines have been cancelled

Andorra, Canada, Croatia, UK, France, Switzerland, and Italy

Masters MTB World Championships have been cancelled
Cross country riders will have their entire season condensed into just over a month (29th September-1st November)

Usually it would be six months

There are new venues for the cross-country worlds

Moved from Germany in June, to Austria in October

Changes to prize money of Nove Mesto

Since there will be a double round two weekends after each other, the UCI and the organisers will not be able to cover the double prize money for those races and have suggested three alternative options:
The prize money is paid for one race only
The prize money is split 50/50 between the two races
They create a combined result for the week and the prize money is paid according to this
With the situation still developing we may unfortunately see more changes to the calendar in the future.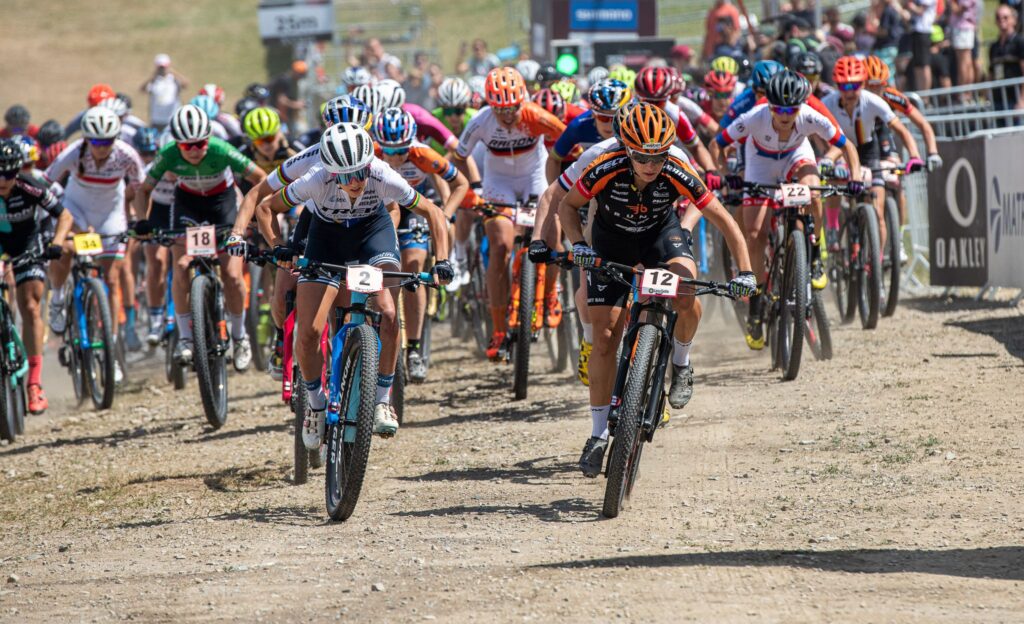 Balancing the excitement to race with the challenges that lie ahead
All cyclists have been severely impacted by the disruption the pandemic has caused to their season. For many, the most difficult time was before announcements were made regarding whether there would be any racing this year. Maja Wloszczowska reflects, "I think for all riders the biggest challenge was to stay motivated without racing options for such a long time."
Even after the new calendar had been announced, lockdown continued to test riders resolve. Candice Lill explains how she focused on ensuring the stresses of the pandemic had as little an impact on her as possible, "I took two months to just enjoy riding and steered away from a structured program. We had heavy lockdown in South Africa initially and I needed to navigate that mentally and emotionally without added stress."
Therefore, there does not seem to be a single rider who is not incredibly excited at the prospect of racing again. Lea Davidson explains, "I think the UCI did a great job creating a race calendar during these very uncertain times."
Despite this, we must be very aware of the multitude of challenges the new season undoubtedly brings. As Raiza Goulão says, "Like it or not, it will be a difficult time."
We have identified five main challenges that riders face in the months ahead:
1. Creating a training strategy
In preparing for a season like no other riders are having to seriously consider their training, leading up to racing. As Candice Lill says, "Usually we wouldn't have so much time in the year to train, as it is difficult to have a solid training block between all the racing and travelling. I feel that I will be well prepared for September, but I always need to keep in mind that rest is important even though I am not racing. I want to arrive fresh and rearing to go, which requires a smart training strategy."
2. Varying restrictions from location to location
For some the logistical struggles of racing during a pandemic will be harder than for others, due to the Euro centric nature of the calendar. As Candice Lill, who is currently in South Africa explains, "There is a lot of uncertainty as to whether I will even be able to get to Europe. Travel restrictions are still quite heavy in South Africa and my biggest challenge will be getting a visa for travel."
3. The fear of COVID-19
Following this, once at a race, finding ways to ensure safety and social distancing is being observed, will surely add extra stresses. There are mixed feelings amongst riders about their health concerns surrounding COVID-19. For some, like Lea Davidson, it is front of mind, "Traveling on a transcontinental flight, staying in hotels or houses with large groups and teams, and racing together in a pack all present potential exposure to COVID-19."
Raiza Goulão also remains very concerned, "It is something very delicate for everyone, not only for my health but also for my family. I am always very attentive to that. COVID-19 is an invisible enemy that the whole world must learn to live with, respect the rules and pay extra attention to care. I need to take care of myself and those close to me. It is a concern to run the risk of contamination traveling for a race."
However, for others, like Jolanda Neff, it is not so much of a concern, "I'm not worried. Luckily, everyone who is racing is a young and healthy person, otherwise they wouldn't be racing. Of course, we will have to respect the guidelines of the local authorities, but given that everybody is doing that, we can hopefully enjoy a great summer of action-packed racing, and a return to normal life!"
What is clear is that there will be many different feelings going into racing again, and everyone will have to respect the differences amongst them.
4. No time for recovery
Once racing, with everything squeezed into such a short period of time there is concern over the impact this will have on riders' physical condition and therefore results. Maja Wloszczowska says, "It's going to be a challenge to stay in top shape for two months with no time for proper recovery and training."
Candice Lill is also considering the impact this will have; "I am confident in my body's ability to recover between big efforts, but I will have to be wise and mindful to make sure I am ready for 'battle' each weekend."
5. Financial impact
All businesses' cash flow has been impacted by COVID-19. Unfortunately for riders, this has manifested itself in changes to prize money at Nove Mesto.
Riders, however, remain pleased racing is still going ahead. As Lea Davidson explains, "Everyone, every business, and race promoters are all facing these challenging circumstances. I'm thrilled that Nove Mesto stepped up to host two world cups back to back. This is helpful for the racers and the sport. The change in prize money is just a result of the current circumstances, and Nove Mesto is doing the best that they can. I just feel really grateful that they are hosting two rounds."
Maja Wloszczowska remains philosophical saying, "Organisers will have a lot of additional costs with more races in the same week. Most of the races are cancelled not because of restrictions, but because of the budget. So, we should really appreciate that Nove Mesto managed to keep the races."
Despite the positivity, the changes to prize money will inevitably have a negative financial impact for some riders.
Channelling positivity
The reality is that anything could happen to me at any time, but it shouldn't stop me from truly living. Control what you can control and roll with the rest. Just like riding a bike.

Candice Lill
In defiance of all the obstacles that this new season brings, ultimately riders have a positive outlook. Some have successfully used the lockdown period for self-improvement. Raiza Goulão says, "During this period, I've gained greater self-knowledge. I have invested the time in improving myself, always in search of the best performance."
The new season will undoubtedly provide something different and exciting, certainly for fans. As Maja Wloszczowska says, "I think having World Cups one after another will keep the attention of the spectators just as a good Netflix tv-series has done during lockdown!"
Candice Lill says, "There are many obstacles I need to overcome to get to the start line, but I believe there will be a way. To stand on the start line would be amazing and something that drives me hugely during these tough days."
Adaptation is key in times of crisis. Those that remain positive throughout this adversity will undoubtedly go into the new season in a better place. As Candice Lill says, "The reality is that anything could happen to me at any time, but it shouldn't stop me from truly living. Control what you can control and roll with the rest. Just like riding a bike."